"Yoshina Ageha is a high school student who offers to help people with their problems for 10,000 yen. He'll take care of your stalkers, find your lost animal, whatever you want. One day when he's heading home, a nearby pay phone rings, and he picks it up. The only thing he hears however is his own voice echoing. After finding a mysterious card with the word 'Psyren' printed on it, his life suddenly changes as he is drawn into a crazy new world."
It's been a year since I've read this awesome manga which is PSYREN and now it end! That in the first episode I already hooked up because of the very unique and mind-blowing twisting stories it have that no one know what will happen to the stories because of this time-warp travel styled stories just like TV Series "HEROES" but right this day it's already completed the episodes and the ending was so great and touchy because they achieve their each goals for their life and to the world. That's why I saved all the famous quotes that give me some inspirations and words which sometimes I can related too.
"Regret is a powerful poison. The more you harbor those thoughts, the harder it is to move on." -
Amamiya
"It's against my personal policy to remember the names of people I don't like. It's a waste of brain cells you know?" - Kyle
"Humans, They are always connected in someone in some way." - NEMESIS Q
"People are weak... that's why we have to stick together!" - Grana
"You may stand at the summit of humanity but you canno climb higher than sky." - Grana
"For the weak, menace is something they see through their own eyes, and purify it with their own hands. It is because they are weak they are invicible!" - Yoyo/Kabuto
"People Become Strong Because They Have Something to protect." - Asuka
"Because of Love, People can go beyond the human limits and get stronger." - Asuka
"I want to be strong too because i want to be with you.... become strong..... so i'll never be a hindrance to you!" - Amamiya
"What's Wrong with having a dream. We're surviving on dreams and hopes!" - Kyle
"Don't Worry about taking risks, be as reckless as you can! Do whatever it takes to grow stronger!" - Elmore
"There are billions of stars in space, for us to meet once more on one of them it sure is fate."- Miruko
"For everyone's sake, I will be the one to guide this path. That's the reason why i have this power. That is my responsibility." - Ageha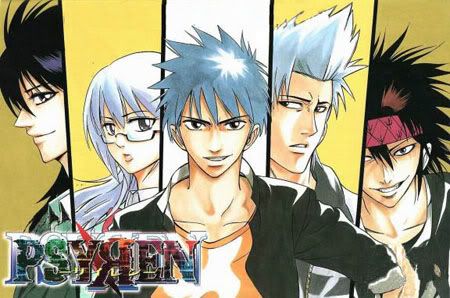 "I AM PSYCHICERS!"